Who is Mike?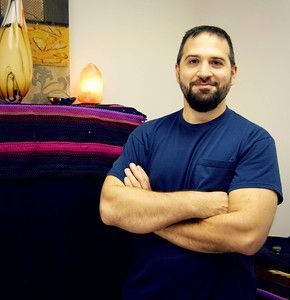 An honorary graduate of Chicago School of Massage Therapy/ Cortiva Institute 2006, former audio production guy, current Airbnb Host, Lyft Driver, lover of bacon, ice cream...possibly bacon ice cream ( haven't tried that yet, but I think I'd like that)
I'm a big fan of balance, variety, and calm. I know what it's like to work hard and too much...I find my balance through giving and receiving massage therapy and subtle Reiki energy practice (which I feel to be a simple, yet a valuable form of guided meditation; peaceful and grounding).
Make yourself comfortable and experience my therapeutic approach to easing your tense and overworked muscles. Whether you're training for a marathon or find your body locked behind a desk at work all day, come in for regular tune-ups and body maintenance to improve your performance or just simply help eliminate muscle stiffness and "knots". Ask me about my Reiki Energy Work and Pregnancy Massage (pre/postnatal).
All sessions are by appointment only at 1802 W Chicago ave June 1st, 2017
Have questions? Click here to send me an email